Angel investing has long been an important source of capital and mentoring for new and growing businesses, bridging the gap between individual (friends and family) and institutional venture capital rounds of financing. An angel can be a wealthy individual or a collection of individuals in a fund willing to invest in a company at an early stage in exchange for an ownership stake, often in the form of preferred stock or convertible debt. Angels are considered one of the oldest sources of capital for start-ups. Over the past several years, angel investors (AIs) have been formalizing in response to both growing demands and complexity; there now exist a fair number of angel investing groups to seek funding.
See the most current report from the Center for Venture Research, a multidisciplinary research unit of the Whittemore School of Business and Economics at the University of New Hampshire, on angel investing. The reports provide an excellent overview of the activity of AIs.
Market Size
Total investments in Q1,2 2011 were $8.9 billion, an increase of 4.7% over Q1,2 2010
A total of 26,300 entrepreneurial ventures received angel funding in Q1,2 2011, a 4.4% increase from Q1,2 2010
The number of active investors in Q1,2 2011 was 124,900 individuals, virtually unchanged from Q1,2 2010
The increase in total dollars and the matching increase in total investments resulted in a deal size of $338,400 in Q1,2 2011, comparable to the deal size in Q1,2 2010 of $337,300
These data indicate that the angel market appears to have reached its nadir in 2009 and has since demonstrated a slow recovery.
Stage
Angels have significantly increased seed and start-up stage investing, with 39% of Q1,2 2011 angel investments in the seed and start-up stage, representing a 26% increase in the seed and start-up stage from Q1,2 2010
This increase was reflected in a decrease in post-seed/start-up investing with 60% of investments in early and expansion stage, compared to 70% in Q1,2 2010
New, 1st-sequence investments represent 49% of Q1,2 2011 angel activity, an increase of 3% from Q1,2 2010 and 8% from 2010
New, 1st-sequence investments represent 49% of Q1,2 2011 angel activity, an increase of 3% from Q1,2 2010 and 8% from 2010:
Sector Analysis
Industrial/Energy has shown a continued increase since 2010, reflecting a growing interest in clean tech investing by AIs. Retail and Media have solidified their presence in the top six sectors, mainly due to investing in social networking ventures.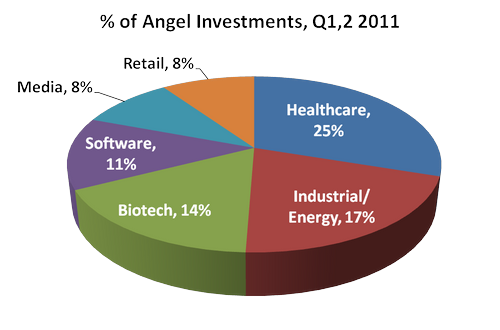 Yield Rates
The yield (acceptance) rate is defined as the percentage of investment opportunities that are brought to the attention of investors that result in an investment.
In Q1,2 2011, the yield rate was 15%, continuing a stabilization in yield rates that began in 2008 (10%) and continued in 2009 (14.5%) and Q1,2 2010 (12%).
These rates indicate a cautious approach to investing, reduces the concern of an unsustainable investment rate, but also reflects the difficulty for entrepreneurs to secure angel funding.
Conclusion
Angels, like other sources of venture capital, are derisking their investments by choosing to invest in fewer biotech programs and decreasing the amount invested. The competition among biotechs and pharma startups for AI support is greater than before; it is critical to have the prospectus well defined, designed, and appealing when presenting to AIs.
Contact Partners in BioPharma Consulting to see where we can assist you with developing the optimal product profile and materials for discussions with angels or other investors. We can manage a project from beginning to end, provide contracted support, or suggest talented experts from our alliance partners to help you achieve your goals. Click here for an outline of services that can be designed to meet your needs.
Links

The following are links that provide additional background and insights on the topics discussed in this article. We hope you find them useful!