No one will argue that developing new drugs is expensive and risky. The question may be how expensive is it? A
review
by Scott DeCarlo and Matt Herper of
Forbes
on drug development costs (provided by Tufts and other sources) indicates the actual investment is not in the frequently quoted $1 billion per drug, but closer to $4 billion, and perhaps as high as $11 billion!
DeCarlo and Herper pulled data from FactSet, adjusted them for inflation and divided the total R&D spending by the number of drugs approved in that time frame. The R&D spend per drug approved ranged from $3.7 billion to $11.8 billion! The data they reported: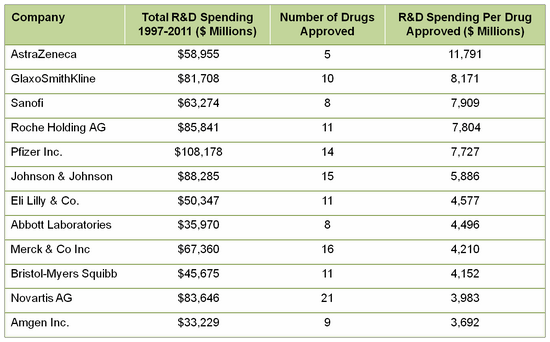 It is clear that most biopharma companies are able to develop a new product for less than $3.7 billion each. But, unanticipated failures in new product approvals and/or less than expected sales are all too real occurrences in this industry that have to be accounted for in the business plan. These data illustrate the challenge for biopharma to have sufficient new products with sales at levels to recoup R&D investment, pay operating expenses and shareholders, and have enough left over to fund further research and/or acquisitions for continued growth and profitability. The last few years of consolidation and down-sizing reflect the industry's acknowledgement of the need for change but many of these options have been played out, especially for big pharma (see "How are you coping?" for related information).
The bottom line on this situation is that the traditional drug development and operating models have to change. Changes have been made, will continue to occur, and they will likely do so at an accelerated pace. Which change or set of changes will turn out to be the most practical and profitable long-term will not be known for five to ten (or more) years to come.
There are some key market forces and movements in play that feed into the need for changes in R&D development and success rates:
Wall Street. The omnipresent need to satisfy shareholders and the market. Nothing more needs to be said.
A tiresome but true refrain, the patent cliff is approaching or has arrived for many companies, reducing their ability to weather failures and to fund new approaches.
Need to deliver products that bring true innovation and value to society as payers and regulators are not reimbursing or not approving products that don't deliver true benefits (incremental benefits are not going to work), e.g., the US Agency for Healthcare Research and Quality; NICE in the UK; Germany's Medicines Market Restructuring Act (AMNOG).
Many diseases of the "low-hanging fruit" variety are being adequately treated with existing products; with many therapies off patent and relatively inexpensive. The remaining conditions with high unmet need are also those typically with poorly understood biology, thereby making therapy development longer, more challenging, with greater risk. This obviously makes development more expensive.
Longer periods of regulatory review with higher hurdles
Changes in marketing and selling with stricter codes and regulation have raised new barriers not experienced in the past
Patents, patents, patents. Without patent protection and periods of exclusivity guaranteed, investment is risky. Changes in how patents are granted, for how long, and to whom, would greatly impact investment design and implementation.
Reduced access to seed funding may prevent future blockbusters from ever being developed as investors seek other investment opportunities with faster returns on investment with reduced risk.
Some changes being implemented:
Research groups as business units: Although many companies have had R&D groups in therapeutic silos for some years, GSK has taken that a step further and developed the Discovery Performance Units (DPU), that focus on improving accountability and personalization of future treatments, leading hopefully to better medicines and ROI. GSK presentations have stated that "R&D will be riskier but they will be more ruthless about moving money around investment pipeline." It is suggested that they will "tilt pipeline to more fundamental unmet needs, e.g., malaria and cancer vaccines." Lilly's Chorus, an independent drug development unit, is another example of making smaller, focused, and more nimble research units with a bottom-line focus.
Pay for performance by healthcare policy-makers and payers: Outcomes data are used to determine best practice. They will include medicines that are particularly safe, efficacious, and cost-effective in treatment protocols, and will exclude those that are not. This driver affects the entire biopharma industry and how it plans, conducts R&D, and commercial processes and must not be ignored.
Biomarkers: Having robust and reliable biomarkers for the desired pharmacologic effect would greatly improve the ROI in R&D by increasing the efficiency of early development. All companies are working on this. Another key is the need for qualified Translational Safety Biomarkers (TSBs) that can be used as safety biomarkers to reduce development time and costs. TSBs and their future needs to be arrived at via collaboration with regulators.
Collaborations and Alliances: A few recent examples include:
Merck, known outside the United States and Canada as MSD, announced a collaboration to create the California Institute for Biomedical Research (Calibr), an independent, not-for-profit organization (501c3) established to accelerate the translation of basic biomedical research into innovative, new medicines to treat disease.
Merck Canada is partnering with Lumira Capital and other venture capital firms to launch a multimillion-dollar research and development fund to attract pharmaceutical firms to Quebec. The Montreal-based subsidiary of the U.S. pharmaceutical giant is set to announce an investment Monday to create the Merck-Lumira BioScience Fund. Merck has committed to investment $100 million through 2015 in biopharmaceutical research and development collaborations with Quebec-based companies and academic institutions.
GlaxoSmithKline and Johnson & Johnson have joined forces with Index Ventures to launch a 150 million euro fund for start-ups. The cash will be invested in companies with just one or two projects, rather than those with multiple programmes, and will consider opportunities across Europe, primarily (but also across the USA) "with assets that have first-in-class or best-in-class mechanisms of action and target areas of unmet medical need".
The Wellcome Trust has approved the creation of a new business, called Sigma, which will have initial capital of £200 million to invest in emerging businesses and technologies in the healthcare and life sciences sectors.
Novartis lists 67 current alliances on its website. Novartis has a venture capital arm, set up in January 2007, known as Novartis Option Fund.
In 2007, Pfizer and Bristol-Myers Squibb entered into a worldwide collaboration to develop and commercialize ELIQUIS, an investigational oral anticoagulant discovered by Bristol-Myers Squibb. This global alliance combines Bristol-Myers Squibb's long-standing strengths in cardiovascular drug development and commercialization with Pfizer's global scale and expertise in this field.
Conclusion
Examples of present and future changes could continue for some additional pages. Importantly, the industry has realized that the business model must be revised. Some very smart and dedicated people are devising and implementing the changes they think are in the best interest of their companies and for the patients their products serve.
The best outcomes from this revolution are for the health of the world to improve by the development and availability of new and medically-meaningful therapies at prices that are both affordable and that will provide for a reasonable return on investment for the industry so as to incentivize continued innovation.
Contact Partners in BioPharma Consulting to see where we can assist you with developing a product profile that optimizes the value of your asset. We can manage a project from beginning to end, provide contracted support, or suggest talented experts from our alliance partners to help you achieve your goals. Click here for an outline of services that can be designed to meet your needs.
Links

The following are links that provide additional background and insights on the topics discussed in this article. We hope you find them useful!
Orest Hurko & Graham K. Jones, "Valuation of biomarkers", Nature Reviews Drug Discovery 10, 253-254 (April 2011).
Mandrekar SJ, Sargent DJ. Clinical trial designs for predictive biomarker validation: theoretical considerations and practical challenges. J. Clin. Oncol.27,4027–4034 (2009)
Taube S, Clark GM, Dancey JE, McShane LM, Sigman CC, Gutman SI. A perspective on challenges and issues in biomarker development and drug and biomarker co-development. J. Natl Cancer Inst.21,1453–1463 (2009).
McClellan M, Benner J, Schilsky R et al. An accelerated pathway for targeted cancer therapies. Nat. Rev. Drug Discov.10,79–80 (2011)